my audrey hepburn clock project was recently featured on better after. if you're a fan of before and after projects, there are loads of ideas and inspiration there.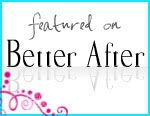 here is a collection of some of my previous before & after projects:
wrought iron lamps saved from their doom
sweater turned into felted tote
lampshade tutorial: how to recover an old lampshade with new fabric
happy weekend all!
© imadeitso, 2010. Unauthorized use and/or duplication of this material without express and written permission from this blog's author and/or owner is strictly prohibited. Excerpts and links may be used, provided that full and clear credit is given to ana at imadeitso.com with appropriate and specific direction to the original content.