i don't do a lot of baking over the holidays beyond a batch or two of cookies with the kids. when i saw this recipe, i knew i wanted to try out this technique this year.
it's a basic sugar cookie recipe. you roll it out as usual, but when you're cutting out the shapes, you cut out another smaller shape within it. fill that space with hard candy, and when it goes into the oven, the candy melts and creates a stained glass effect. it's very pretty and i was happy with the results…
the first two trays that went into the oven were a bit of a learning curve, and the recipe itself didn't give many hints.  i've shared some of what i learned below, in the notes.
i really like the way the light goes through them though. here they are stacked on glass tiered plates.
a few notes about making these cookies:
the recipe doesn't specify how to break the hard candy. i used the butt end of my heavy-duty henckels kitchen knife. i think a safer alternative might be a small hammer. also, i found that breaking the candy into larger chunks that just fit the hole in the cookie melted better than smaller candy crumbs. the smaller pieces melted too quickly and burned before the cookies had baked.
the recipe says bake for 10 mins but check on the cookies at 7 minutes or so. if the candy has melted and is starting to bubble, use a bamboo skewer (or similar) to stir the bubbles out. this creates a more flat, glass-like candy. if the candy bubbles too much, it can splatter the surrounding cookie dough (which is fine and colourful, but maybe not what you intended).
let the candy cool completely before trying to remove it from the pan.
when it cools, the candy is hard (don't bite into it).
i used clear candy (jolly ranchers, as specified in the recipe) in different colours. i wonder if this would work just as well with candy cane, it might be nice with different coloured swirls… if you try it, please let me know.
i used an apple corer to cut out the circle within the animal shapes. if you have concentrically smaller cookie cutters in similar shapes, i think that would look very cool.
try to make all the cookies the same thickness per batch, so your moose antlers don't burn  :)
the cookie cutters i used can be found here.
have you tried this before? do you have a favourite cookie recipe or technique to share?
this project was featured…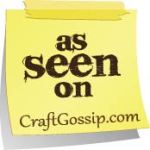 © imadeitso, 2010. Unauthorized use and/or duplication of this material without express and written permission from this blog's author and/or owner is strictly prohibited. Excerpts and links may be used, provided that full and clear credit is given to ana at imadeitso.com with appropriate and specific direction to the original content.